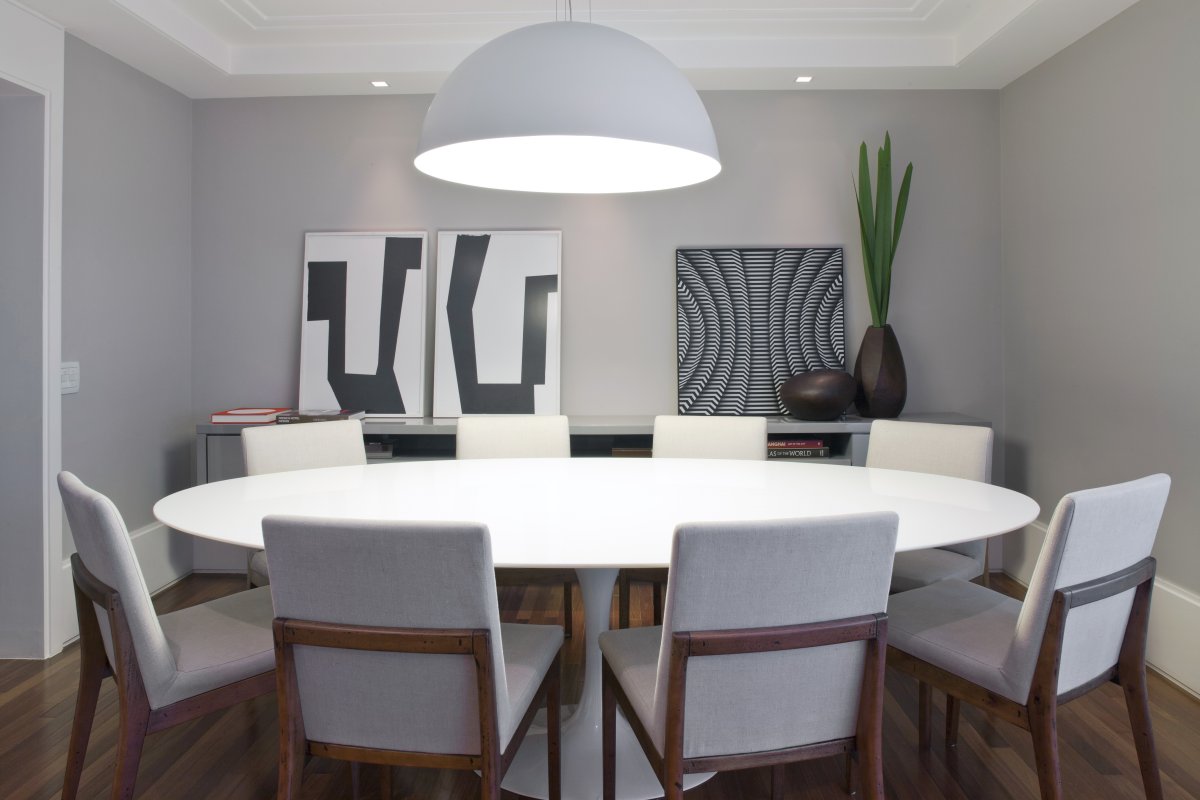 Today's Modern Dining Room Features Style, Personal Flair And Comfort
Today's modern dining room is the stylish space in which you entertain guests as well as your home's hub for comfortable family dinners. When choosing furniture for your dining area many exciting and stylish options in tables, chairs and even whole sets are available. Choose matching pieces for an elegant and coordinated look or mix and match chairs and a table to achieve your own personal style in the space.
The simplest way to pull a certain decor look together for the room in which your dine is to choose your table and chairs from our contemporary dining room sets. Whether your style preference is rustic, modern, industrial or elegant, our sets are designed to meet your needs. Choose from sets built with warm solid or wood, sleek and sophisticated cast aluminum or ABS plastic, polished chrome, sparkling glass and sturdy steel. Think of the set as a functional furniture sculpture for your home and choose one that reflects your personality while setting the mood for dining.
The table is the center of your room's design. The modern dining table is available in many shapes, sizes and materials to make selecting the perfect proportions for your dining area a breeze. Table choices feature geometric shapes with clean lines and simple to unique designs for their bases. Large tables with self-storing leaves in beautiful wood grains can seat from four to eight comfortably. Choices for a glass dining surface are available with base options ranging from chromed legs or white lacquered legs of ABS plastic to pedestal bases of aluminum.
Stylish chairs should complement your dining room's decor. Contemporary chairs of clear acrylic are made in one smoothly molded piece. Stackable chairs in minimalist designs made of ABS injection-molded plastic are available in many different color options. Comfortable leather chairs are simple yet sophisticated and elegant. The combination of metal and wood in a chair is an exciting aesthetic touch. Modern microfibers, linen, leather, velvet and other materials make our upholstered dining chairs comfortable as well as attractive. For variety and a more rustic look, consider using a dining bench instead of chairs on one side of the table.
Small dining areas are the perfect space for a round dining table. Large spaces need the length of a rectangular table or the area of a square table that can seat up to eight. Our unique design elements create beautiful sets for either indoor or outdoor dining. Add a buffet for an elegant or stylish finishing touch. Capable of serving as both storage for linens and dishes as well as a serving surface, many buffets contain drawers, storage compartments and wine racks.
Whether the outcome of furnishing your dining area is an industrial style in clean lines and sleek metal, a mid-century modern look with molded plastics and aluminum, or a rustic and cozy dining look in benches and table of warm wood grains, Home Furniture and Patio has the perfect combination of dining furniture for your home.