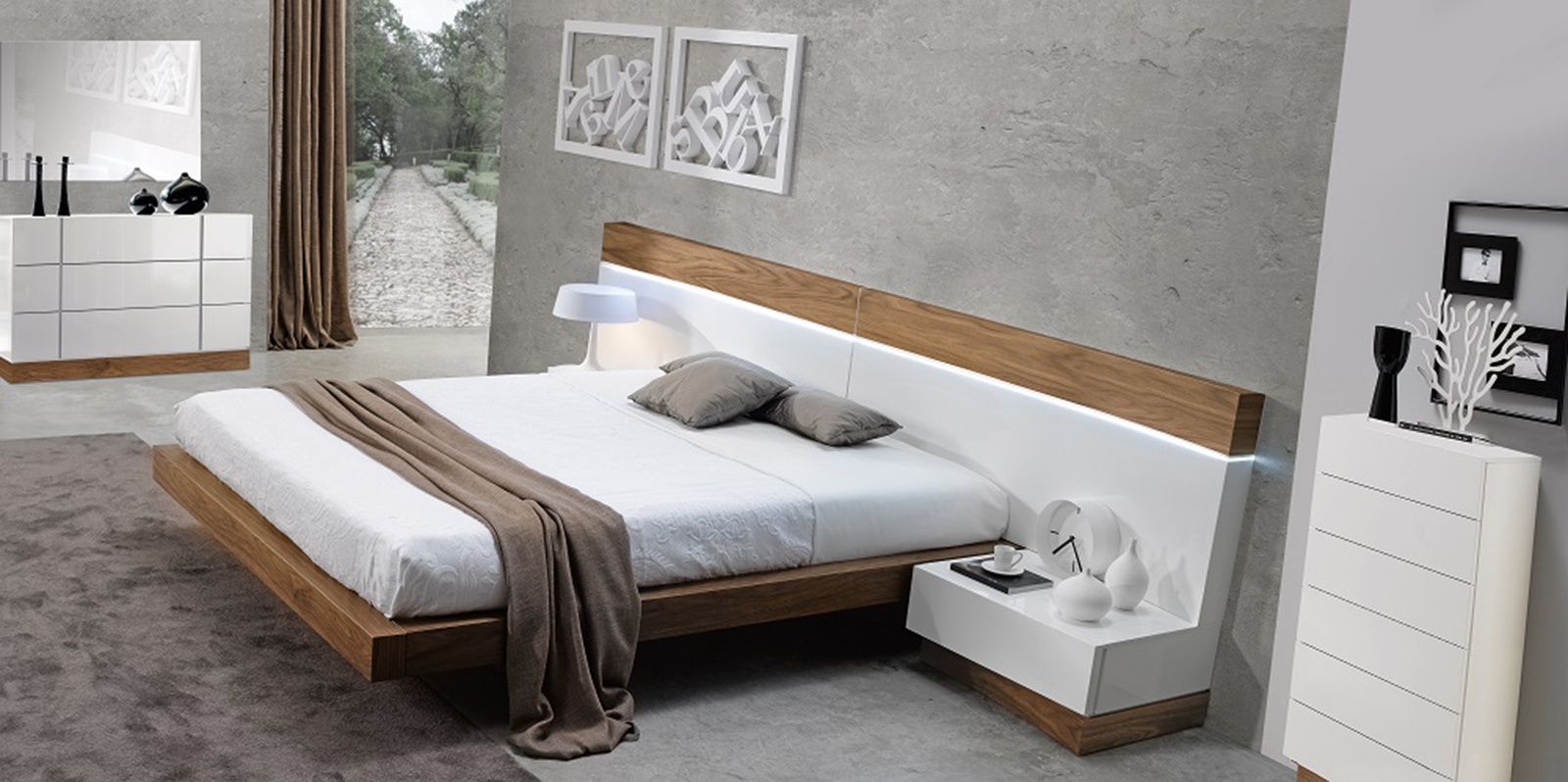 The Sleekness And Stability Of A King Platform Bed Is Ideal For A Modern Bedroom
The master bedroom is a homeowner's haven at the end of a busy day. A simple and stylish king platform bed makes the perfect centerpiece for that restful bedroom. Available in design styles to suit any modern or traditional bedroom décor, a well-designed modern platform bed is the perfect piece of furniture on which to experience a great night's sleep. Combined with matching or compatible nightstands, dressers and other bedroom furniture pieces plus a beautiful bedspread, duvet, or quilt, one of these modern beds will be the perfect place to relax in your personal oasis.
The benefits of furnishing your bedroom with a king size platform bed are many. A platform bed has a streamlined appearance that looks great in contemporary room designs. These beds' clean modern look requires no frilly bedskirt to hide the bed supports and casters. This new bed is an instant update for the look of your bedroom suite.
Such beds allow you to place your mattress directly on the bed's platform frame without the addition of box springs. The result is a firmer sleeping option for those who need one. Many individuals with chronic back pain often find that this popular type of bed is a much more comfortable sleeping option for them. Regular mattress and box springs sets may develop soft, indented spots that the sleeper often rolls into when comfortably asleep. Platform mattresses are a bit firmer in their feel and their design.
Many homeowners opt for a platform bed with storage drawers added under their mattress platforms. At Home Furniture and Patio we offer a collection with three drawer and six drawer beds. This makes a wonderful place to store extra bedding or sweaters and many other items. You will not sacrifice stylish beauty for practicality either. The king bed size has designs with simple curving lines in their upholstered headboards as well as leather covered headboards with nail head accents. Some have an appealing wood panel design while others have a rich nutmeg or honey-tines finish to their wooden headboards. There are also beautifully upholstered headboards in our selections as well as head boards that feature a mechanism to raise it and lower it.
The flat king platform bed frame makes the bed more stable than other frames. This makes a sturdier bed for those who are heavy or toss and turn at night. Their stability is also increased by their low to the ground profile. For short and older people, this makes the bed much easy to mount. This platform is ideal for memory foam mattresses with their firm sleep support. All these characteristics work together to create a beautiful and extremely comfortable bed.
Many beds come as part of a bedroom suite with a nightstand (or two), dresser and mirror, and a high chest. There are lovely four poster beds available plus beds in many upholstery colors or elegant leathers with pewter or brass nail accents. Many include covered side rails and footboards as well. Visit  Home Furniture and Patio, – we have the perfect bed for every décor.