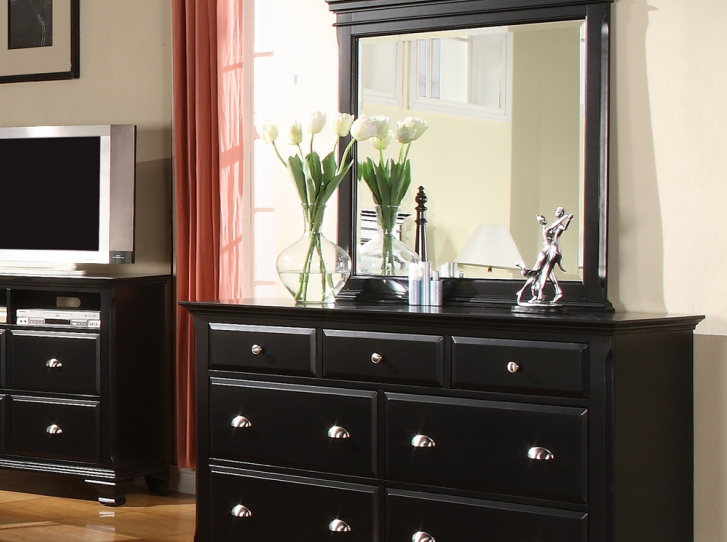 The Modern Dresser Provides Bedroom Storage In Beautiful Styles
The master bedroom is your own personal oasis from the hectic pace of modern life. Create in it a design scheme that allows you to unwind yet serves your needs in many practical ways.
The modern dresser is a stylish furniture piece that adds useful beauty to your bedroom suite. Not only does it provide ample bedroom storage for clothes and personal accessories, it does so in a form that enhances the design style of your bedroom décor. Home Furniture and Patio offers many dressers for sale in a range of styles to satisfy every design preference.
One popular choice is the mirror dresser, which is large enough to accommodate a single to triple mirror on its surface. A 5 drawer dresser with attached standing mirror in acacia hardwood is not only beautiful and luxurious but extremely durable as well. A matching tall dresser completes the simple yet luxurious look of these bedroom storage pieces.
For a shabby chic dresser aesthetic, try a piece with vintage character such as our Parcel Cabinet. With a distressed white frame and multicolored drawer fronts plus antique-style knobs, it contributes an industrial, vintage flair to any bedroom. Nothing provides a mid-century classic look for your bedroom like a Danish modern dresser and matching furniture. A long dresser provides top space for display of family photos and other useful items.
The absence of pulls or knobs on your dressers and modern armoire contributes to the simplicity and clean lines of the modern aesthetic for bedroom furniture. Drawers and doors with no hardware to break up the furniture's sleek look maintain the balance and serenity of Asian plus other style designs. Function is never overlooked as well. Full-extension as well as deep drawers allow easy access to their contents. Curved drawers add a touch of elegance and romance to your bedroom suite.
Armoires are ideal for use in the modern bedroom. Several of our offerings are large enough to serve as an armoire wardrobe for those bedrooms with limited closet space. Others are specifically designed to serve as chests for jewelry and personal accessories in stylish yet practical furniture pieces. Some may even be used as storage cabinets for a television and other media equipment that may be closed away when bedtime comes.
Dressers are designed to provide ample and convenient storage of clothing, bed linens, and personal accessories to keep your bedroom clutter-free and pleasant. Available choices range from combinations of three to eight drawers for convenient and readily accessible storage space. Design styles range from the informal with simple, clean lines to luxurious with beautiful wood grains and hardware details
Mid-century modern, Danish modern, industrial/loft, antique or shabby chic, Asian and the crisp glossy white finish of new modern furniture styling are all available. You should express your personal preferences and personality when selecting bedroom furniture that reflects who you are. All pieces join your bed to produce the master suite of your dreams.