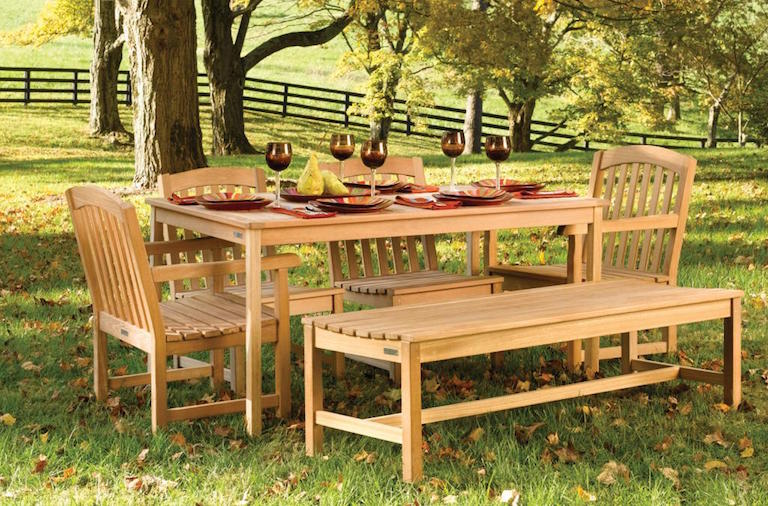 Purchasing, Cleaning and Maintaining Resin Patio Furniture
Entertain your guests in style with
resin patio furniture
in your backyard. Resin is one of the most popular materials for outdoor furniture, and it is easy to see why. It is durable, inexpensive and looks great in many different settings. Resin outdoor furniture is also known for being easy to clean, making it the perfect choice for those with busy lifestyles. Whether you want resin furniture to freshen your patio's look, or resin garden furniture for your landscaped backyard, the following suggestions will help you find the right furniture that complements your home and make entertaining all the more easier.
Tip #1: Look for resin furniture in a myriad of  colors
White resin furniture might be iconic and give your home a quaint, old-fashioned touch, but you might want to buy wicker furniture in darker colors, especially if you live in an area that gets a lot of rain. Look for reddish-brown furniture sets to give your space a laid-back, earthy feeling, or black or green pieces for a more contemporary look. Update  these resin outdoor furniture sets with thick cushions in contrasting colors as well. Consider putting cream or white-colored cushions on black wicker patio furniture for a fresh, clean vibe.
Tip #2: Buy wicker furniture finished with vinyl or resin for durability
If you live in a snowy or rainy climate, you will want to look at resin or vinyl furniture that has been treated with water-resistant coatings like the
Ares Resin Square Dining Set with 4 Chairs by Compamia
. Resin wicker furniture is also able to resist fading and cracking in extreme color or eat. You can also buy furniture sets that feature aluminum frames if you are worried about natural wicker pieces being damaged or growing brittle over time.
Tip #3: Find resin furniture that complements your home
Resin patio furniture might seem cozy and simple when loveseats and armchairs are grouped together, but you can also make your favorite pieces look sophisticated with the right styles and colors. Purchase resin furniture sets with angular, boxy shapes if you want modern décor like the
Club 5-Piece Deep Seating Group by POLYWOOD®
. On the other hand, go with chairs, side tables and rocking chairs with rounded, smooth edges if you want to set a more traditional space.
While resin patio furniture is generally easy to clean, it is still important that you keep it well protected.  Keeping them in the shade as much as possible will help preserve their color.  During the winter, store them covered to keep it clean, and make it easier to get it ready for another season. Contrary to what many might think, cleaning resin patio furniture is not hard, but it is important that you use the right techniques. Here are a few tips to help you out.
Use a hose to wash off any surface grime and dirt. If you have one or you can get one, use a pressure washer set on the lowest setting.

Rub the whole surface of the furniture piece with a damp cloth dipped in soapy water. Use a mild dish detergent to remove any stuck grime and dirt.

Protect the surface of your furniture from getting dirty by applying a paste made from water and baking soda. Mix the paste together until it gets a thick consistency, rub it on the furniture, and rinse completely.

Use a mixture of detergent, bleach and water to remove stubborn stains from your resin furniture. Mix a cup of bleach, a gallon of warm water, and a couple of squirts of your favorite dishwashing liquid. Apply the mixture to the stains, and let it stand for at least 10 minutes, and rinse it away. Repeat this as necessary.

Remove scuff marks with a paste made from water and a quality cleanser like Ajax. Apply the paste and let it sit for 10 minutes before you hose it off.

Let the newly cleaned furniture dry, and wipe away any remaining moisture using a clean, soft cloth.
Always wipe away any new spills so they do not have a chance to set it. Wash away tree sap or bird droppings before they  can damage the furniture's surface or mar the finish. Clean every piece of furniture when you get the hose out to water your yard, garden or flowers. A few extra minutes a week can help keep your resin patio furniture looking like new, making the next spring cleaning a little easier.