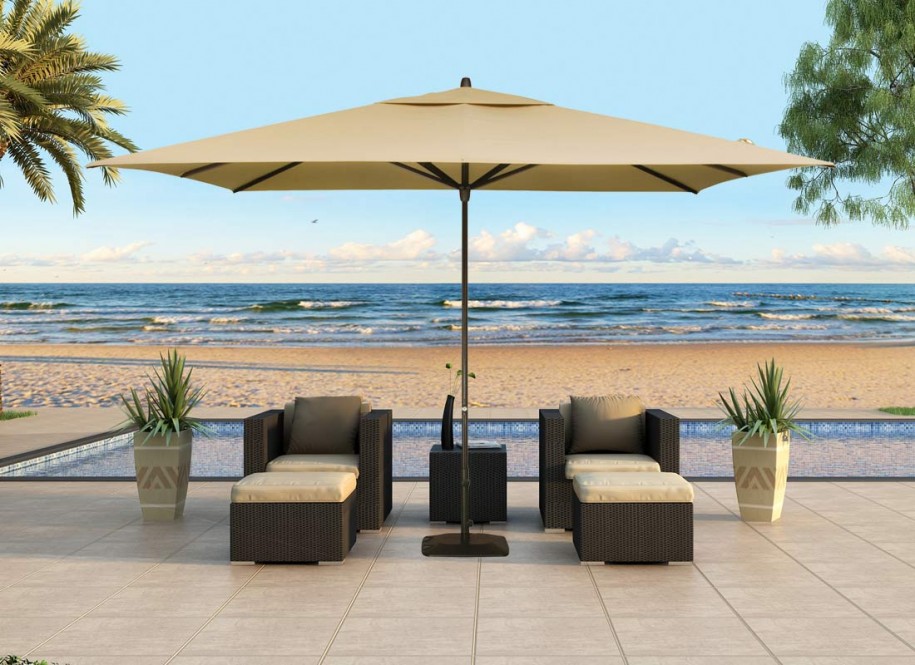 Outdoor Patio Umbrellas – The Central Theme to Enhancing Your Outdoor Experience
Outdoor patio umbrellas
are  a great way to help you enjoy your outdoor space and an investment that will add value to your home. With the right outdoor fabric, a patio umbrella can protect you from the dangerous UV rays which cause skin cancer while giving you and your family a great place to entertain and relax. Overtime, the designs of patio umbrella manufacturers have improved and become somewhat of a fashion statement for the outdoor room decorator. They have become a centralizing theme and a fun element to enhance  patio and home décor.
The wide range of fabric alternatives available today can be thrilling, but it can be a challenge to uncover wonderful bargains. But which of these choices is the right one for your home? With so many available options and so many materials, it can be a bit difficult to choose the right one.   By reviewing the basic umbrella categories, you should find the  style and feature that is best for you.
This is the traditional look of the patio umbrellas with an unmistakable feature: a unique bell shape appearance that hearkens back to a time when patios and backyards were the heart of a home's recreation.  They  have adorned luxury garden furniture sets for years.
Typically small compared to modern day umbrellas, they are great enhancements to courtyards, backyards and small patios. For making the classic look complete, complement them along with rattan or wicker furniture for that  old world goodness.
Wood market umbrellas are  all about rustic luxury. They are inspired from the original DIY outdoor umbrella, which is the street market umbrella.  The timber market outdoor umbrella today has now come a long way. This creates a chic atmosphere, and are usually one of the more popular styles. It is the best way to create a relaxing environment in your home, perfect for those staycations. Choose an umbrella that made of teak or hardwood like the
Square Wooden Umbrella by Jordan Manufacturing Company
, as they are usually water repellent and bug free.
Wind Resistant Fiberglass Umbrellas
Fiberglass was traditionally the costliest building material for umbrellas. Fiberglass is stronger and better at tolerating  higher than average wind conditions compared to wood or aluminum. What makes them stand out is that fiberglass ribs can flex and bend under wind pressure, but snap back into shape quickly.
A fiberglass outdoor umbrella can easily withstand winds of up to 50mph, which is why they are called wind resistant umbrellas. Because they effectively flex, turnovers and forward falls coming from accidents or rough  play will not crack the ribs, which typically  send umbrellas to the trash.
Café-style modern aluminum outdoor umbrellas are very popular these days because of their durability and their features. Aluminum is lightweight and does not really rust. It is also available in a plethora of frame finishes that can go with just about any home's  décor.
Aluminum patio umbrellas will usually have specialized characteristics, such as automatic tilting. Outdoor fabrics are available in so many varieties, so you can create practically any look that you like, like an elegant hotel or a sidewalk café.
One of the challenges with an outdoor umbrella is the middle pole. The shade covered by an outdoor umbrella is great, but the center pole gets in the way of conversation, or limits the usable surface on tables. Usually seen in stylish cafes and restaurants, offset umbrellas position to the side, or offset from the center, leaving the shade cover over you or in the place where you want shade. This frees up room and make new possibilities for creating room.
This umbrella like the
Offset Umbrella by Jordan Manufacturing Company
is great over the pool, or in a spa. You can shade your little ones while they are having fun without stressing about an umbrella falling over or getting in their way. Entertaining close friends outdoors will be an entirely new experience without having to look around a pole to have a discussion.
A patio umbrella was once treated as simply a useful accessory, but it can, and usually is, a key theme to your outdoor space. Take your time in choosing the best outdoor patio umbrella for your home. With the perfect choice, it can change your outdoor décor entirely, and you can be the envy of your neighborhood with a large, beautiful and comfortable umbrella.