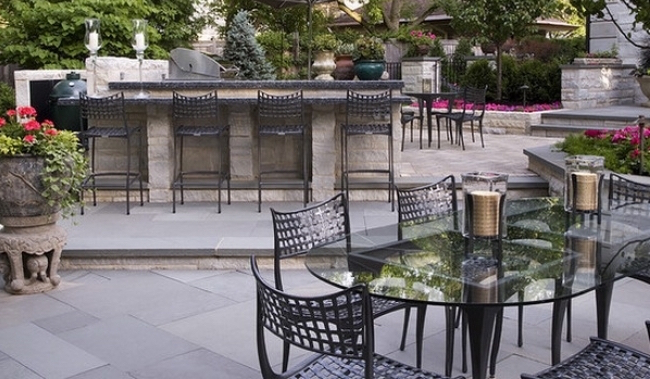 Ideas for Replacing Glass on Patio Dining Tables
Glass
patio dining tables
are a reliable piece of furniture for the outdoors. They are relatively easy to clean, as opposed to a wooden table that is prone to  warping  and weathering over time. These also look very stylish and are much easier to maintain than most of the other table styles. Here are a few beautiful examples of glass outdoor dining tables.
Bermuda Dining Table by Nuevo Living

. With a frame made from natural and durable Teak wood, this dining table has a clean brown finish that is topped off with a rounded clear glass top. It suitable for both indoor and outdoor use.
Venice Round Dining Table by Vifah Modern Patio. Made of cast aluminum, this modern dining table features a Desert Bronze finish to complement your outdoors. It captures a piece of that wonderful California sunshine and casual lifestyle.
The glass from  a patio table, however, can become scratched and worn and may need to be replaced. There are a few ways to do this, including changing what the surface of the table is actually made from.
By simply replacing the glass in a patio table, you will have removed the weathered look and made your table look as good as new. Depending on the size of your table, replacement glass, textured or clear, cost around $250 to $350 to cut and ship to you, complete with a hole in the center for your umbrella. You might also want to consider buying colored or painted glass to change up the whole look.
Replace with Synthetic Resin
Because glass tables are a bit fragile, replacing a glass patio tabletop with a plastic one  might appear to be a great option. These table tops are more durable to shocks and scratches penetrating  their surfaces. Plastic tabletops are made of acrylic Plexiglas and are almost unbreakable. They can be patterned, textured  or clear in their design. This is an inexpensive option that that will save you in the long run.
A much more expensive but also more expressive and aesthetically pleasing alternative to a glass patio is a round stone-top patio table. These tables are usually ornately designed out of mortar, stones and cement, with patterns of different colored tiles and stones decorating their tops. Durable to both weather and human abuse, these tables will outlast the house itself, if given the opportunity. However, if you are just replacing the glass on your patio table, a stone tabletop may not work, as they need rather specific frames. Most stone tabletops have supports holding them that are made out of a strong metal. Many glass and plastic patio tables have plastic supports holding them up, as they are designed to hold much less weight.