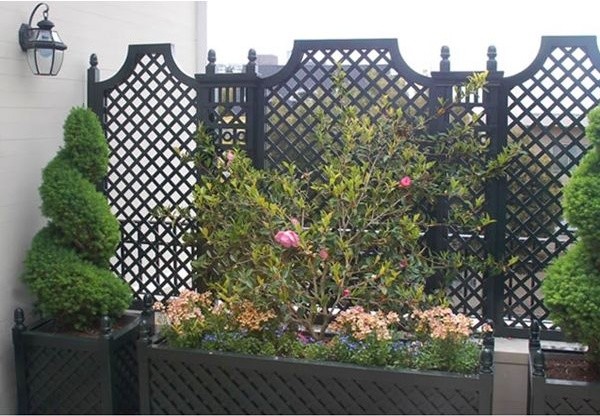 Fast Growing Beautiful Plants for Your Wooden Garden Trellises
Trellises have so many uses in your landscape. Trellises are mostly less expensive than fences and, once they are filled with plants, they perform many of the same functions. When positioned on both sides of an entryway door, on the side of a building or house, or a sturdy post in the garden creates supports for your climbing plants, decorating a specific area. Trellises positioned in front of garbage cans, storage area, utility area, or in the corner of the garden do double duty as screens and decorations. Here are some examples of this:
Western Red Cedar Pagoda Arbor by All Things Cedar

. Dedicated craftsmen start with the finest interior grown Western Red Cedar available to hand produce this trellis that can be enjoyed for many years. Western Red Cedar fibers contain oils that act as natural preservatives to help the wood resist rot and decay.
Wooden Trellis Box by Jordan Manufacturing Company

. The Wooden Trellis Box by Jordan Manufacturing Company is a decorative Trellis Box that can be used to display plants and store items in the box. This Trellis box is made of Eucalyptus with an oil base finish. This trellis box comes with wheels for easy mobility.
Cedar Arched Arbor by Creekvine Designs

. With its latticed sides and beautifully planked dome of solid red cedar, it makes such a sturdy vehicle, that soon it will be overcrowded with gorgeous blossoms striving toward new horizons. This decay-resistant arbor will also withstand the harsh winters, so it will stand strong for a long time.

Cedar 2pc. Planter with Trellis by All Things Cedar

. The All Things Cedar 2 pc Planter with Trellis is perfect for your backyard or patio. You can just add dirt and you have the perfect setup to grow vines tomato plants or what have you. This is perfect for outdoor areas that could use some color and shade buy has limited space.
You can also use trellises as private areas, screening out unsightly views and reduce noise. The more vines and plants it has, the better is its ability to block out views and noise There are so many vines that grow well on these
wood patio accessories
. Check out some of them below. Use them as your guide if you are considering getting one, or just changing up the plants of your current one.
Known as a vigorous vine, Jasmine has pale pink or white flowers that bloom from spring to fall. Its fragrant flowers attract butterflies and hummingbirds. The vines grow up to a height of 30 feet high and 15 feet wide, and requires frequent pruning to keep its size contained. Jasmine require sun or partial shade, and average soil. It grows as a perennial in USDA Hardiness Zones seven to 10, but will not survive during winter in colder areas.
Cypress vine has bright red flowers that bloom from summer to fall. This annual vine can grow up to 20 feet high and features fern-like foliage and a twining habit. The showy flowers attract butterflies and hummingbirds. This vine grows in all areas, except where it is cold. The plants require full sun and average soil for it to survive.
A perennial with unusual purple and white flowers, the fragrant blue passionflower blooms from mid-summer to fall, attractive butterflies. Attractive, edible fruits called maypops might appear during mid-summer. The vines grow to up to 8 feet high and spread up to 6 feet. Blue passionflower grows in USDA Hardiness Zones 5 to 9, but it will not survive a very cold winter in some parts of Zone 5. The plants require full sun or partial shade, along with an average soil.
People grow the perennial vine actinidia mainly for its kiwi fruit and colorful foliage. The male of this plant possess the best foliage color, while the female plant require a male nearby for it to produce fruit. The foliage hides its tiny, insignificant flowers. The vines can grow up to 20 feet tall in USDA Hardiness Zones 4 to 8, and require full sun or part shade, along with an average well-drained oil.
Otherwise known as clock vine, sky vine and sky flower, blue trumpet vine has lavender blue flowers that bloom during the late summer and early fall. These vines grow up to 30 feet tall in frost-free areas and up to 8 feet when grown as annuals in colder areas. Blue trumpet vines require a rich, organic soil and partial shade or full sun. The vines grow in USDA Hardiness Zones 10 and 11, but are grown as annuals in colder regions.