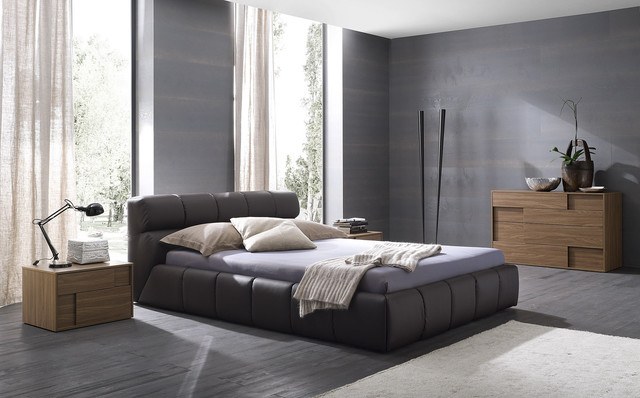 Create Your Own Personal Oasis With Modern Bedroom Furniture
Your bedroom is the private retreat you furnish for yourself at home. It is your bedroom to which you retire when you are ready to escape the cares of the day. To make your bedroom a haven of style and comfort we offer a wide variety of beautiful modern bedroom furniture from which to select the perfect pieces for both your comfort and your personal style.
Modern bedroom design focuses on creating an inviting yet practical environment. Modern bedrooms are designed with not only decorative form but practical furniture function and durability in mind. To create an inviting and restful bedroom we carry bedroom furniture sets for all family members, from small children to the master and mistress of the home. Furniture décor styles range from simple, sleek and modern to warm and luxurious pieces as well as sophisticated designs and even a touch of whimsy.
Whether you prefer a minimalist style or a warmer, more decorated one in master bedroom furniture there are sets for all choice preferences. A king size bedroom set is ideal for a modern home's large master suite. All of the pieces in our master bedroom furniture work together to set the décor style for the room while the large bed serves as a beautiful focal point. Dressers in these sets may include from four to nine drawers providing ample storage space. Two night stands with drawers of their own add to your convenience and storage. From beautiful wood or wood veneers in dark walnut and cherry to modern laminates and lacquers in white or black bedroom furniture, there are a variety of beautiful sets available.
Modern platform beds, particularly in king and queen size, are popular for today's bedrooms. Their headboards are a striking centerpiece and they conveniently require no box springs. These beds are well-constructed of state of the art materials and offer both traditional and innovative designs. Some bed frames (whether for platform or traditional beds) include convenient storage to relieve bedroom clutter. Bed frames for our designer platform or traditional beds feature a headboard and often a foot board as well. There are even four poster platform beds.
Frame your bed with solid wood bedroom furniture in matching or complimentary pieces such as twin nightstands, a multiple-drawer dresser, a chest of drawers, and a bench or jewelry armoire. Add sophistication with Italian bedroom furniture in black or white lacquered finishes with metal knobs. Other crisp designs feature walnut and aluminum drawers in cutting edge designs. This furniture features a classic look in contemporary design.
A well thought-out bedroom design and beautiful luxury bedroom furniture combine to create a perfect oasis for a restful escape at the end of a busy day. Finish off the room with a chaise lounge as an accent piece plus extra seating or a stylish armoire in which to hide your bedroom television set. Add the wall and linen colors that make this personal space your own then use modern bedroom ideas to keep your look fresh and up-to-date. Use your furniture to set the tone for a serene and gracious bedroom theme.