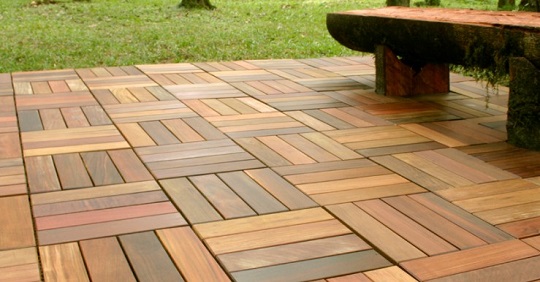 Inspired Outdoor Living with Patio Flooring
Lisa, a housewife from California, asks: "
We have a good amount of space outside our home, and I want to transform it into a living space where we can relax, hang out, and eat. Now, I'm considering using patio flooring. What are my best choices?
"
Many options present themselves when it comes to the  kind of flooring you should have for your outdoors. You will need to weigh important factors, including safety, maintenance, and your budget.
Outdoor flooring
does allow  for both functionality and attractive décor;  so choosing the type that best fits your needs should not be difficult if you know what you are looking for.
If the foundation of your patio is in good shape and you reaure an inexpensive flooring option, you can paint. Concrete paint is available at home improvement stores and paint stores. Wash your concrete patio to remove dirt and debris. Use an acid wash solution to thoroughly clean and prepare the concrete. Allow the concrete to dry before applying primer. When the primer has dried,  you can begin the paint process. Sealing  and painting the floor will ensure the elements for up to 5 years before you will have to repaint again.
Always a classic choice, tile brings color and texture to your outdoor space. For temperate climates, you can use porcelain or granite like the
JointStone Granite Tile Bright Grey – Set of 10 Boxes by Infinita
. You can also use ceramic tiles; but not in climates that have extended periods in which the temperature drops below freezing as the tile will crack. Spanish or Saltillo tile is also a great flooring option. However, both of them require annual sealing to maintain their color and to prevent cracking.
Floors made from Brazilian walnut or teak will tolerate being exposed to the elements. Decking tiles like the
Le Click Flex Teak Tiles (Set of 10) by Infinita
are squares of wood with a support system on the underside that allows you to snap the squares together. The tiles can be installed directly over your concrete foundation, creating the look and feel of a deck without actually building one.
Outdoor carpeting is manufactured to withstand the element. Usually made of synthetic materials like olefin and polyester blends, the provide  color and comfort, and are  very easy to install. You can add an outdoor carpet like the  to your patio floor using an adhesive specially designed to hold the carpet to the concrete foundation. Home improvement stores may have installation services available that include installing outdoor carpeting if you do not want to do it on your own.
You can use this option if you are installing a new patio foundation. When the concrete is poured, the stamp or stamps can be applied to create different faux stone effects. Stamped concrete is an art form, and there is little room for error. It is also one of the more expensive options for patio flooring; the cost is in the labor and the price of the stamps.